The composition competition of the Cologne-Jazz-Supporters e.V. (CJS) for jazz musicians from NRW has again received an overwhelming response in its fourth year. The prize winners have now been announced.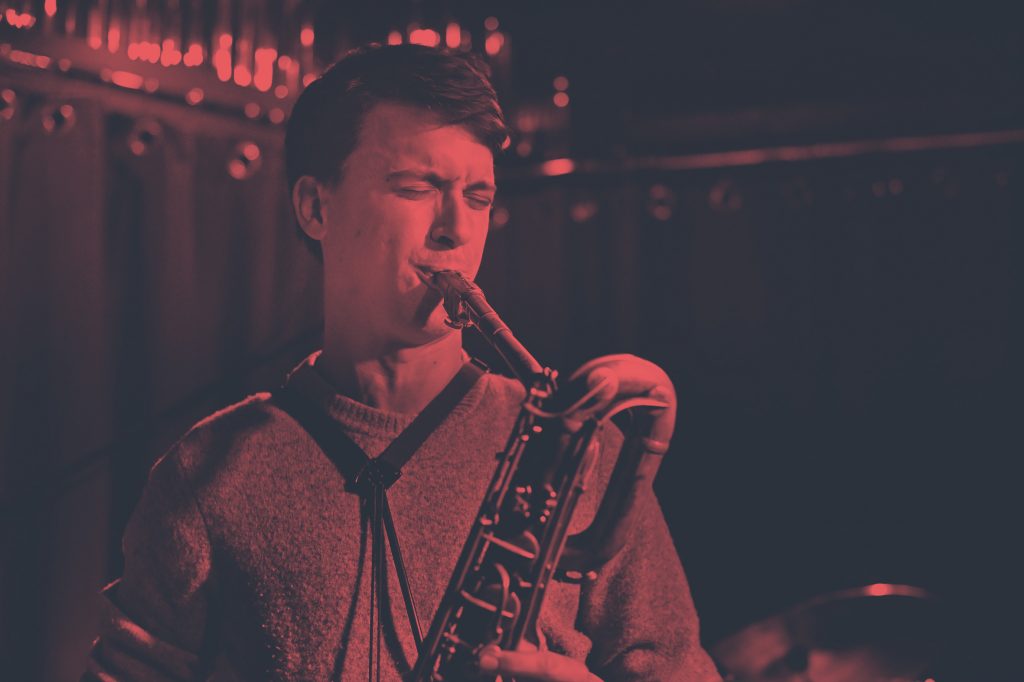 ---
Awards for jazz composers
The Cologne Jazz Supporters e.V. (CJS) have announced the winners of their 2023 composition competition for jazz musicians from NRW.
First place goes to the piece "Nine to Five" by Ole Sinell. The Cologne-based saxophonist has been a member of the Bundeswehr Big Band since his involvement in the Bundesjazzorchester (BuJazzO), and recently became the leader of the newly created Jazzorama Big Band. Sinell has already worked as an arranger for the HR Big Band, the SWR Big Band and the Bundesjazzorchester.
The composition "Sailor Embarking" by Ursula Wienken is in second place. The young German-Polish bassist studies at the Cologne Academy of Music and already won the 2021 Art Promotion Prize of her hometown Neuss as a composer. As bandleader she leads her "URS Quartet" and her new fusion quintet. She is currently a member of the BuJazzO.
Leon Hattori wins third prize with his piece "Euphoria," which he dedicated to the late American drummer Ralph Peterson. The German-Japanese pianist was a member of the BuJazzO and studies at the Musikhochschule Köln. He plays in many bands and leads his own quintet.
The competition offers cash prizes of € 1,500, € 1,000 and € 500 plus performances at the Cologne jazz club King Georg. The three-member jury with Martin Sasse (chairman) and the winners of previous years Charlotte Illinger and Sebastian Gahler judged blindly, i.e. without knowing the names of the composers.
CJS chairman and operator of the King Georg Dr. Jochen Axer: "Even after the Corona period, a gratifying number of musicians have again participated with impressive compositions. This is of course great and in the spirit of the CJS as a non-profit association and the Jazz Club for the promotion of jazz in Cologne and the surrounding area. We will again invite many participants of the competition to concerts at the King Georg."
CJS board member Hans-Bernd Kittlaus: "For the first time this year, we are giving participants the opportunity to exchange ideas about their submitted compositions on a voluntary basis. This has been well received."
The award ceremony will take place at the King Georg Jazz Club with an audience and will be livestreamed. The date will be announced shortly.
www.cologne-jazz-supporters.de
Photography: Gerhard Richter
First cooperation with Judy Carmichael's Jazz Inspired in Europe: regular exciting podcasts with world-renowned artists. This episode: Tony Bennett (R.I.P.) More than just a beautiful memory.
Jamie Cullum is the most successful British jazz musician of today, a sensational entertainer with his own compositions and several cover versions (the most famous being "Don't Stop The Music" by Rihanna). His song "I'm all over again" illustrates his power, his crossover style. And if you want to hear more, we recommend the recording of his piano solo concert from 2021. At King Georg we play the music of Jamie Cullum next Tuesday, 28 March
And of course, his cover song "Don't Stop The Music" must not be missing here (11 million views on Youtube) – interesting especially in comparison with the Rihanna original (644 million views).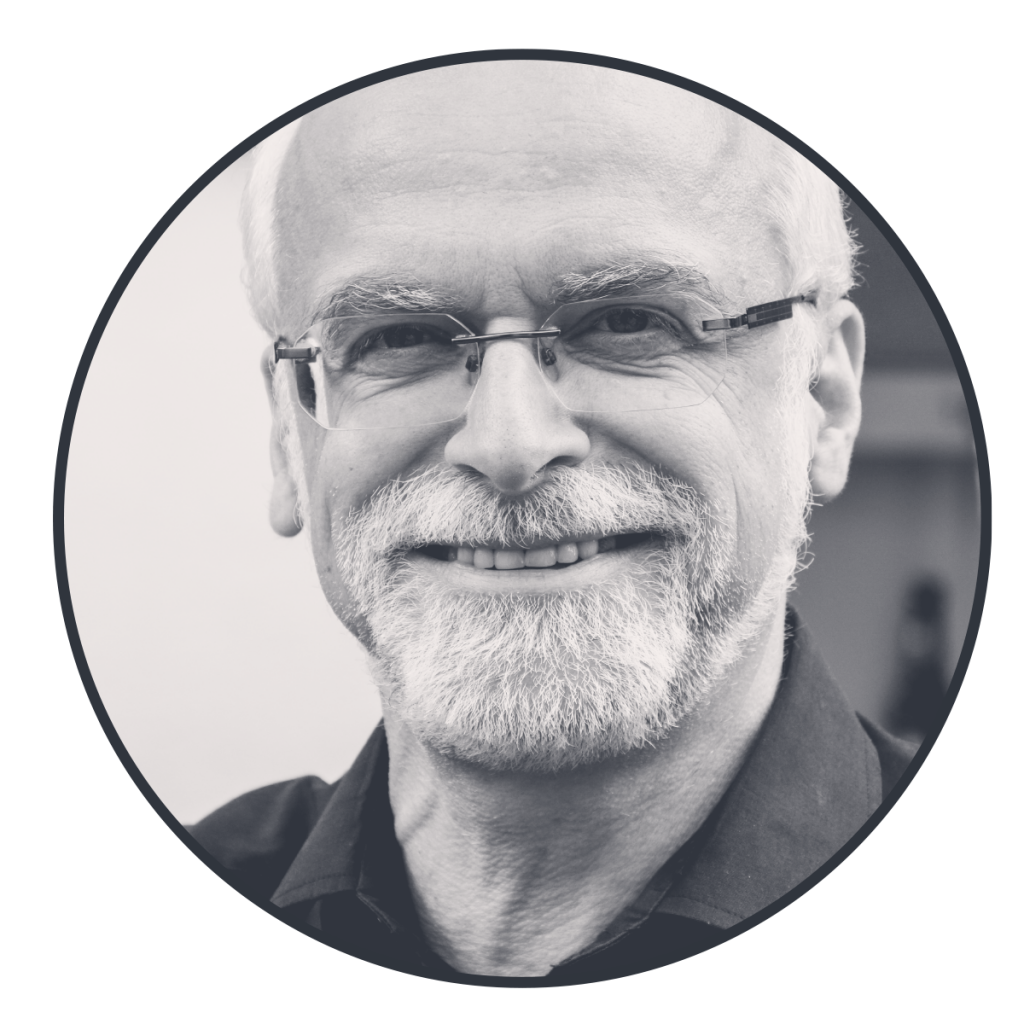 Jochen Axer, supporter of the King Georg and promoter of many other jazz projects via the Cologne Jazz Supporters, presents one of his favourites here every Sunday.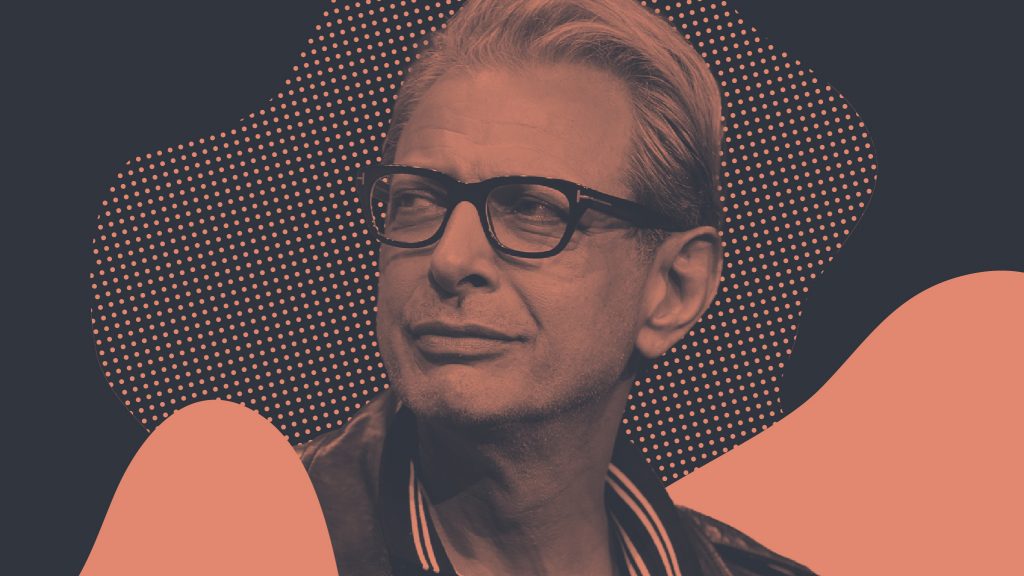 First cooperation with Judy Carmichael's Jazz Inspired in Europe: Regular exciting podcasts with world-renowned artists. This week: Jeff Goldblum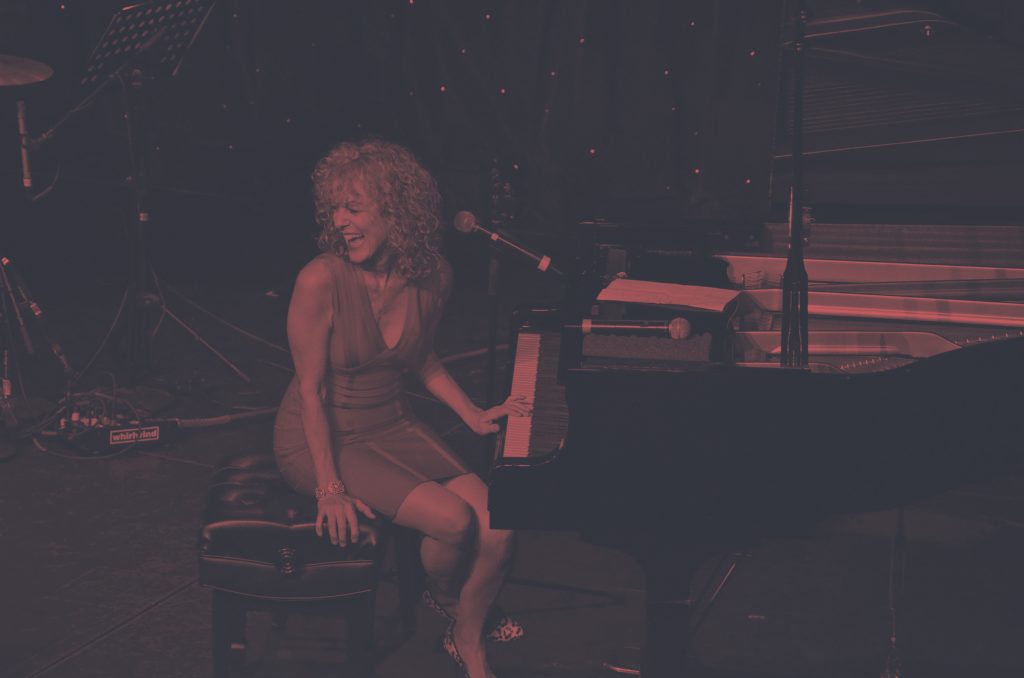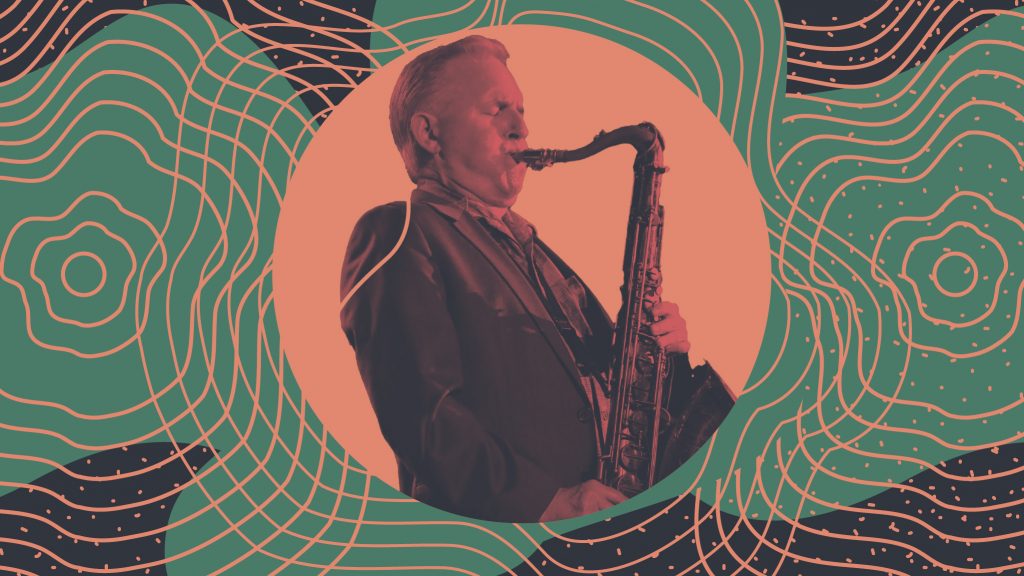 First cooperation with Judy Carmichael's Jazz Inspired in Europe: Regular exciting podcasts with world-renowned artists. This week: Scott Hamilton.
Scott Hamilton live at King Georg with the Martin Sasse Trio on March 14th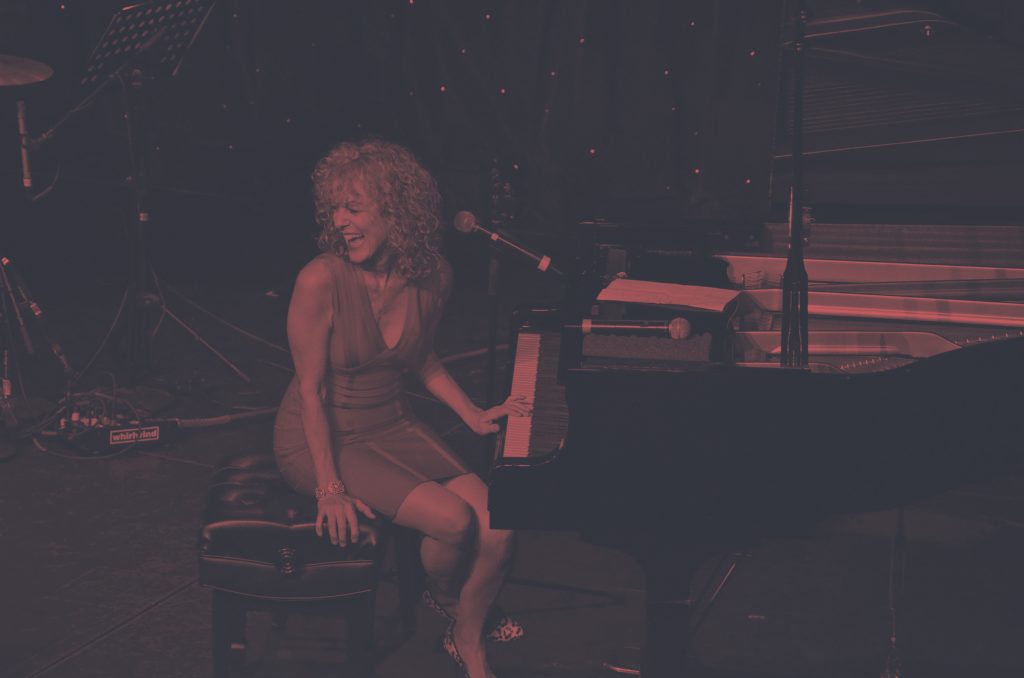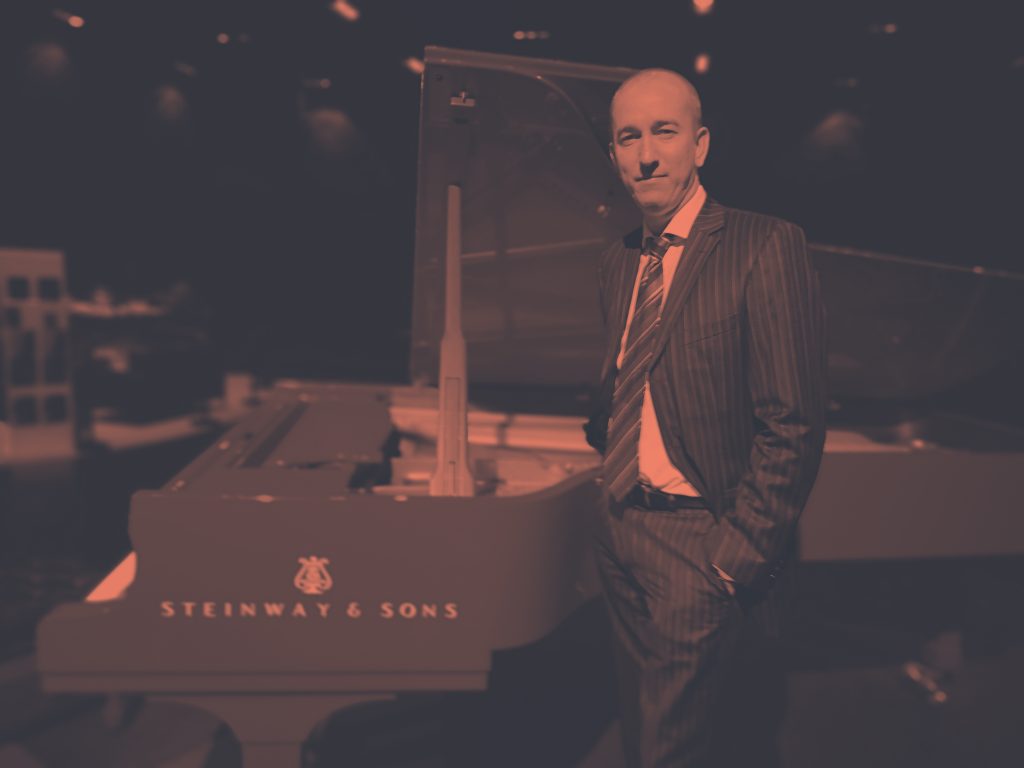 First cooperation with Judy Carmichael's Jazz Inspired in Europe: Regular exciting podcasts with world-renowned artists. This week: Chris Hopkins, live with us with the Jazz Kangaroos on 06 March 2023.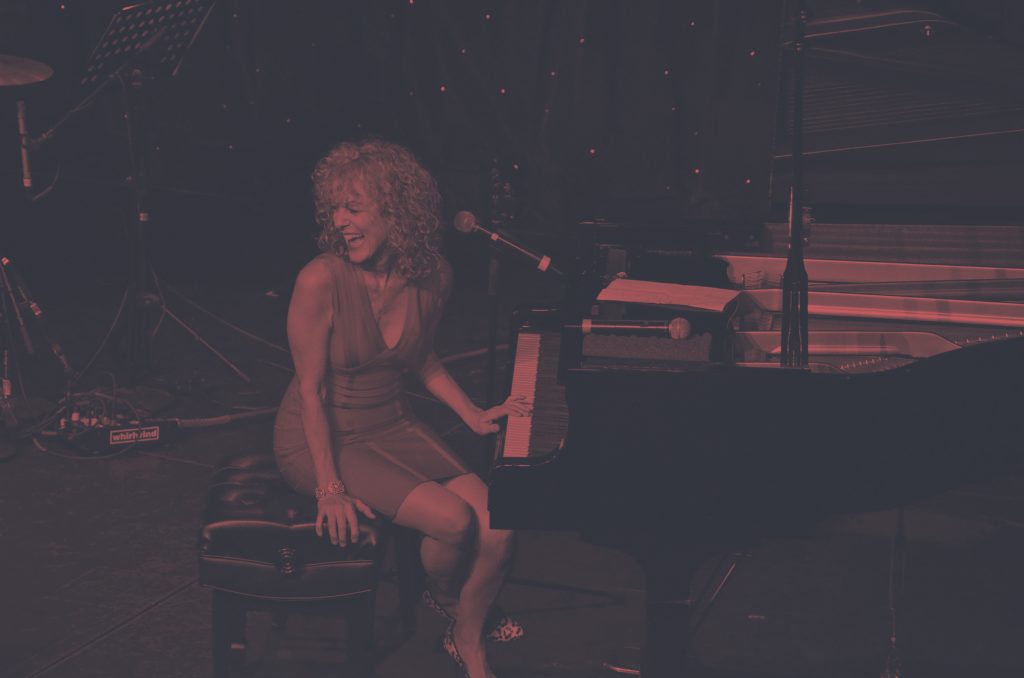 The legend of Ella Fitzgerald – what lies behind one of the defining voices of the 20th century and her use of bee-bop-bop-bah-ooo-bee-doo-bee.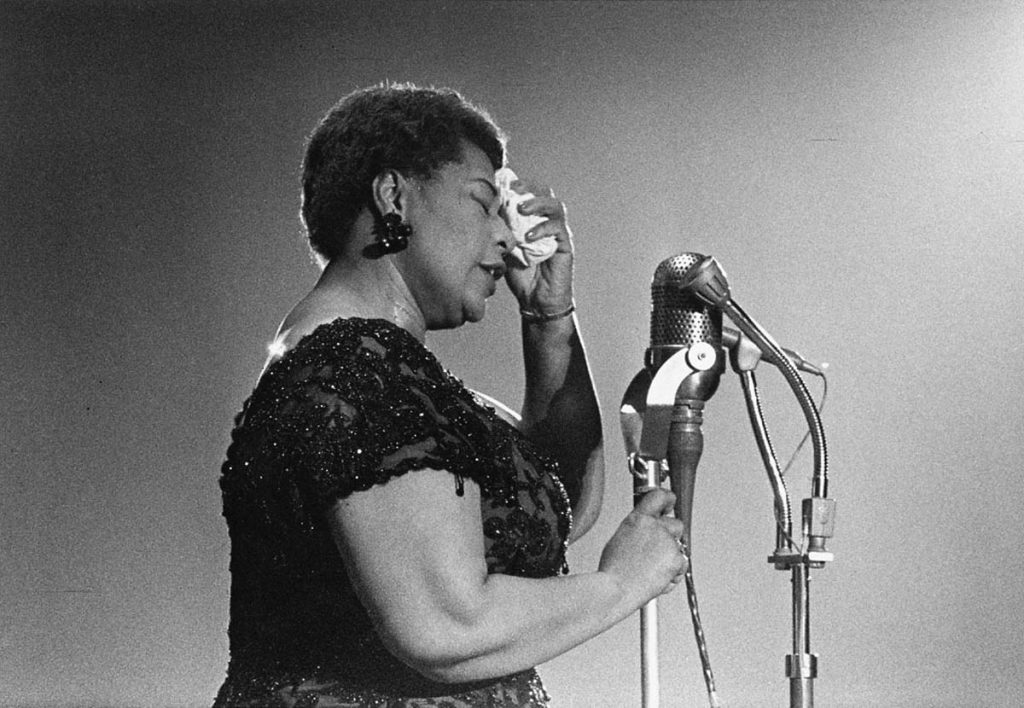 A few weeks ago, the American music, pop and rock magazine Rolling Stone published a list of the most important 200 singers of all time. This compilation was hotly debated; some decisions are understandable. The great voices of African-American music history are honoured; Aretha Franklin – certainly not without good reason – comes in at number one. Meanwhile, many in the online forums protested with the same justification about the 45th place: Ella Fitzgerald, born in 1918 in Newport News (Virginia), found herself there. An absurdity considering the fact that Fitzgerald's voice shaped the first half of the 20th century like no other.
Mary Lou Williams, herself one of the most important composers of jazz and the Great American Songbook, once recounted a night of dancing in Harlem's Savoy Ballroom. "A voice that sent a shiver up and down my spine." Further, it is said of her that she even literally ran to the stage to find out who the voice belonged to.
Of course it was Ella Fitzgerald, the band to Chick Webb's swing band. Chick Webb, the influential swing band leader at the time, discovered Fitzgerald in 1934 at a singing contest at the Apollo; also located in Harlem. The legendary club boasts to this day that it was the place where "Ella" was discovered. At least that's how the legend has it.
In fact, Webb did not meet Fitzgerald, who was often shy in the early days, until a year later; and was only to hire her permanently after a few months of rehearsals.
Nevertheless, she quickly convinced with her youthful voice, which even decades later sounded as if the vocal chords had fallen into a fountain of youth or had made a deal with the devil. As evidenced, for example, by this recording from 1968 – when she was already 50 years old – of the Gershwin ballad "Summertime":

This version sounds familiar to you, dear readers? It's a familiar phenomenon in the context of Fitzgerald's career. As the most important interpreter of countless compositions – fuelled, incidentally, by her involvement with the Verve label, for which she has recorded several songbooks – one could claim that Fitzgerald "owns" these songs. In any case, her interpretations continue to shape the songs to this day.
With Chick Webb, she was to lead the swing that made the States dance and sing in the pre-World War II era. After Webb's death in 1939, she took over his band for a few months, which unfortunately didn't work out: as a self-taught musician, she had never learned to read music and was comparatively unsuitable as an arranger. Before death, Webb, Fitzgerald and the band had a number one hit on the Billboard charts. "A Tisket A Tasket" was the big breakthrough.
Although her voice was inspiring and as much as she enchanted the audience with her youthful manner, one particular technique could be particularly significant in the big picture of music history: Fitzgerald raised scat vocalisation, which was in any case very important in the emancipation of the voice as an instrument in its own right, to a new level.
Carmen Lundy explains in Joachim-Ernst Berendt's "Das Jazz-Buch": "Many scat singers use the syllable dwee very often. Ella Fitzgerald, on the other hand, does not use dwee very often. She uses the bee-bop-bop-bah-ooo-bee-doo-bee more."
This richness of form and variety of sounds was extremely important. Scat, which here emulates, among other things, the saxophone, which is quite related in sound, goes from being a gap filler to a complex system of different sound components.
You can see that here, for example:
This made Fitzgerald the most important vocalist in be-bop, as she was better able than most of her colleagues to meet the new demands for harmony and vocal improvisation. The rest is history: In the course of the 50s, she became known to a wider audience – despite segregation in the southern states and performance bans. Marilyn Monroe also played a part in this, but above all her wonderful timbre, which opened eyes and mouths throughout her life.
And as already mentioned: Fitzgerald collected songs through her iconic interpretations like other people collect stamps. After an eventful career, she died in Los Angeles in 1996 – showered with honours and medals. Perhaps the editors of Rolling Stone should reconsider the placement in their Top 200.
Text: Lars Fleischmann, Foto: Foto Ben van Meerendonk / AHF, collectie IISG, Amsterdam
In a city full of terrific pianists, Felix Hauptmann, a native of the Saarland, has been able to carve out a prominent role for himself. A conversation about his band Percussion.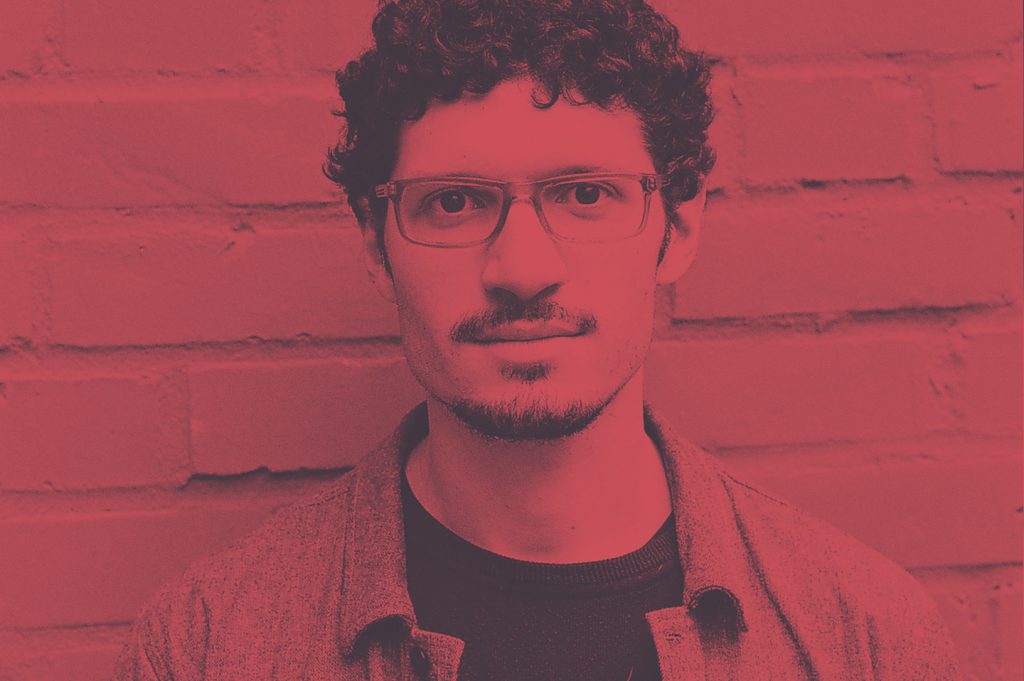 The winner of the Horst and Gretl Will Scholarship for Improvised Music of the City of Cologne 2022 is a highly active part of the local scene – as composer, musician, lecturer and organizer. The jury's statement reads: »As a pianist, he is a clairaudient sideman; as a soloist and composer, he works emphatically and creatively to find and invent his own paths. His compositional handwriting is marked by an astonishing familiarity with compositional styles of contemporary serious music, […]« This versatility has characterized Hauptmann for several years – he came to Cologne to study at the Hochschule für Musik und Tanz back in 2012 – and is reflected in his own music, which does not merely function according to dictates or maxims, but is in a constant process of change.
Last December he played with his band Percussion – with Roger Kintopf on double bass and Leif Berger on drums – at the King Georg.
Your professional career began very early. You made your first mark with the HNK Trio, when you were far from being of age. How did that come about?
This connection came about through my (jazz) piano teacher from Saarland at the time, Christoph (»Sunny«, author's note) Mudrich, who was very well connected. He gave a lot of workshops and taught a lot, so he knew a lot of (hobby) musicians. When he realized that this could go in a certain, more professional direction with me, he looked around in Saarland for people with whom I could form a band. He then found Conrad (Noll) and Fabian (Künzer). When we realized that we didn't only want to play standards, but also write something ourselves, the band started to work. That's when I was 16 when it got more serious.
In 2011 you won the studio award of the Deutschlandfunk. Does that make you feel like a prodigy?
No, I never felt like a child prodigy. It was much too weird for that. The competition was in Dortmund and that was the first competition I played. I hate auditions and competitions – at least today. But at that time we were there because there was no other applicant from the Saarland. It was »either you go or nobody goes«. When we arrived there, without an audition or anything like that, and heard the level at which they were playing, it was clear to us: there's nothing to be gained there. Some of the other bands were already older, some were already studying. We were very happy when we actually won.
But that didn't make me feel outstanding now. I was always very supported, which is super nice. Nevertheless, I never felt like a prodigy.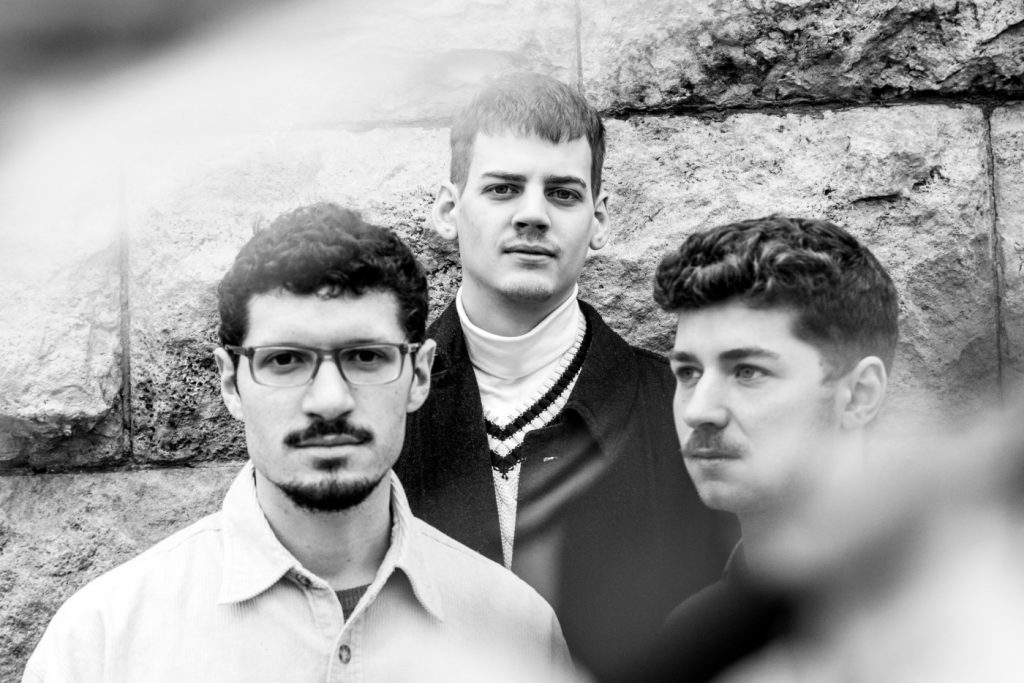 Your instrument, if we take it as a pianoforte, it's probably the most widespread or well-known instrument in the world …
… in the western world …
… exactly, the western world its the 1830s. But that's when it influenced music the most with the guitar. That's why it's the best studied, it was all done on it, I would argue. Is this inherent heritage fundamental to your work as a pianist?
For me it means a certain freedom, that everything has already been played, every connection and every chord has already been played. I don't know that much music, compared to other people, but I have a certain certainty that really everything has been played before. It doesn't have to have seen the light of day in a big way or to have arrived here, in Germany – for me, this doesn't mean that I have to create something "new". That's not what it's about for me. If I don't have to reinvent the wheel anyway, then I can concentrate on what I want to play and explore.
It's different, for example, when an instrument is played on stage that you don't know here: there you are first occupied with the sound and perhaps not so much with what is being played.
Nevertheless, you try to expand the vocabulary of keyboard instruments. You also devote yourself to analog synthesis. That's what it says in the justification for the Cologne Horst and Gretl Will scholarship…
Well, I am partially dedicated to analog synthesis. I find it a bit amusing that this is the first thing mentioned there. There are colleagues who have already devoted much more time to it. For me, I wouldn't say that I »deal« with it.
I use the synthesizer and just last week I did a synthesizer session with my band Percussion, but that's about it.
Therefore, there is an album of mine, »bloom (night)«, which I recorded at home with synthesizers. But that's also only on Bandcamp and never released in a big way.
I wonder if you are in the process of resolving (for yourself) certain dead ends in jazz and improvised music played on the piano.
These dead ends are not on the instrument, but if on me.
And yet, with your band Percussion, you clearly dedicate yourself to rhythm, which is the new field of research in music, after harmonics has been taken to extremes in recent years and seems to have been formulated.
Yes. That's the basic idea, of course. The name Percussion is also on the nose. It came out of pieces that I had done once and then just called »Percussion 1« etc.. After I put out »Talk«, it was a nice moment. I was very satisfied and yet I could say that I don't like to play this music anymore for the time being.
What gave rise to this feeling?
When you study piano in Cologne, you really have to have checked out everything. The level is extremely high. And especially when it comes to harmonics, there is a subtle pressure that you feel during your studies. But then I wanted to do something else at some point. And the fastest and most interesting alternative to that was rhythm. I'm a fan anyway: if it doesn't groove, then it's garbage anyway …
And after a conversation with Leif (Berger, drummer with Percussion) on the train, where we talked about Cologne and the level in the city, it was clear: harmony then ultimately remains a limited field in the twelve-tone system. And rhythm is unlimited. Leif said that he found it strange how little focus there was on it. That was the trigger to go deeper with rhythm.
What is the idea with percussion?
Basically, the way we play is based on the pieces alone. We played 11 or 12 pieces the Thursday we played at King George. You might not think so, but we primarily play pieces, even if they sound free. We have an extremely large amount of material. There are improvised passages, but the majority is composed.
That's actually surprising. Because the three of you seem very free in the way you play….
Because we learned it by heart. That's a big point. Learning the material took forever because it's so extensive. This is by far the band I've rehearsed the most with. When we play a gig – aside from touring now – we have to meet again before every show.
That's the core of this project for me: the music is obviously very complicated, but the complexity is not an end in itself, it's just a vehicle for a working band. I wanted to have a reason to rehearse a lot.
I always think: the music is so weird and difficult that you feel like you're in your first garage band, trying to cover pop songs even though you didn't know how to turn on the keyboard. And then you create that on top of it. And that's the vibe that percussion is for me.
But that also means putting a lot into it …
Yes, exactly. Sometimes there are such snooty things. You say a composition is »crap« when you don't feel like playing a piece after a rehearsal. I think that with the privileges we enjoy here, there has to be something more behind it. I can no longer approach making music along the lines of, »I can play anything anyway, and I'll just leave something I don't like.« Percussion is the opposite: the compositions have to be worked out.
I'm no longer into this »you come somewhere and then you play something away«. I come from there, but it doesn't make sense to me or the band anymore. I felt less and less comfortable with living in a country like Germany and everything is easy for me, I don't have any existential worries, and then to sit down and gamble. That's not sustainable, where is that going.
That's very anti-genialistic and anti-romantic.
Yeah, that's a good thing. I'm really glad that the band members in Percussion, but also the musicians in the other constellations in which I play and work, see it the same way. There's a lot of rehearsing and talking, reflecting and doubting.
You are a lecturer in Wuppertal at the Bergische Hochschule … What do you teach your students?
I can't »teach« the students much anyway. Even though my teaching assignment is called »jazz piano«, I teach in the teaching program. So I don't teach aspiring professional musicians, but those who want to teach in schools themselves later. In the fewest cases, it's about playing jazz piano. It's more about concrete things: How can I arrange a song? How do I accompany students when they want to try something different from the curriculum? For me, it's about conveying a basic flexibility. I see myself more as someone who provides assistance.
Do you take anything with you for your own music and compositions?
Not so far. That's because I've been working on my music for a very long time and it's far away from what the students themselves are interested in now. But I still benefit from the fact that I have already thought so much about music and my music – whatever that means in detail. What already happens: I hear songs that I didn't know but think are cool. I take that with me. And I see and hear what the even younger people are interested in, what problems they face in the subject and in general … these are future teachers and I get an insight into how the course is designed and what will be taught soon. I try to take that with me …
Interview: Lars Fleischmann.
Bandleader, composer and vocalist Nicola Missing plays with Quintett at King Georg. We talked to her about training in Maastricht, jazz and pop.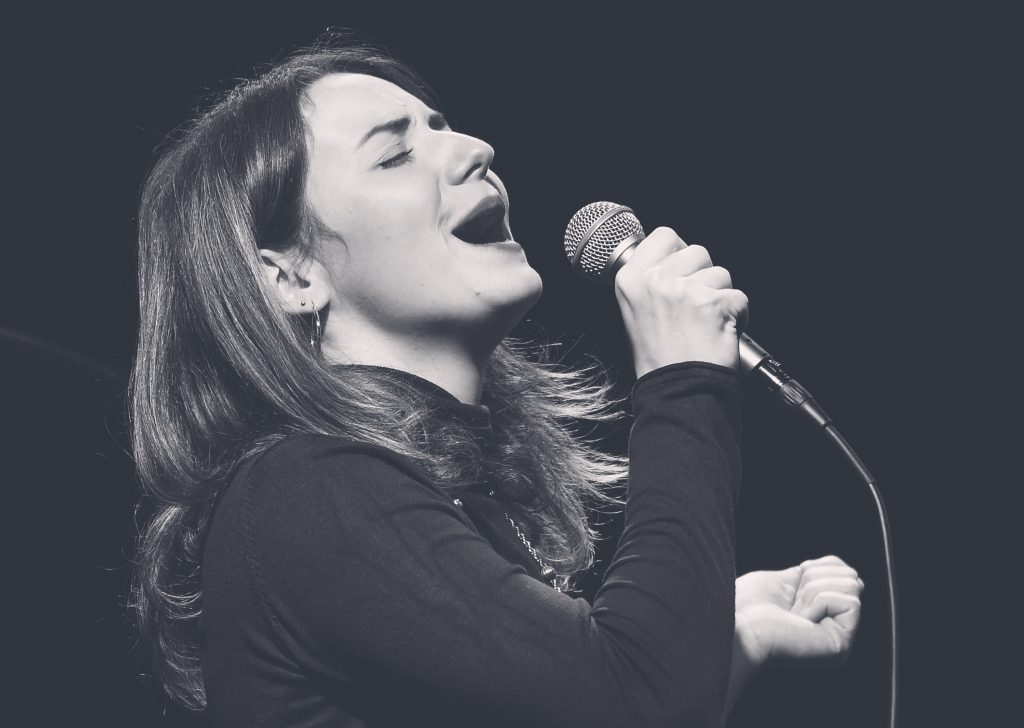 That there are also formidable »young talents« outside of German universities, colleges and conservatories does not need to be told at length; nevertheless, it is a happy occasion to be able to welcome one or more such talents from the distant Netherlands at the end of the year. Band leader, composer and vocalist Nicola Missing is a native of Koblenz; she says "born and raised in Rhineland-Palatinate". From the Deutsches Eck (and at 23 at the time), she went to Maastricht Conservatory two years ago to study jazz vocals. There she met Jakob Lingen (now on drums) and Peter Willems (bass). She "hired" the rhythm section for her Nicola Missing Quartet. A few months ago they went on to Amsterdam to the local conservatory. There the pianist Chris Muller and Jeline Weening on saxophone appeared on the scene. The quartet became a quintet at King Georg.
How did you get into jazz singing?

I started playing the piano when I was five and I had singing lessons from the age of nine. In my youth, I mainly sang pop vocals, but then I also sang R&B. The bridge to jazz was relatively short.
Later, I did the one-year preliminary studies at the Open Jazz House School in Cologne – and after the entrance exam, I decided to go to Maastricht.
What brought you to Maastricht?
Maastricht is one of the nine renowned conservatories in the Netherlands, but from Koblenz, for example, the way to Cologne would have been closer …
First of all, I already knew people who studied in Maastricht. And besides, it was important to me that I wanted to study in a smaller city first. I wanted to study more inwardly, so I wasn't interested in a particularly exciting city or a larger scene with lots of sessions. I really wanted to focus on studying and my own songwriting.
That's an approach that I don't think is taken that often. Is that something you would recommend to others?

For me it was a good decision.
You also decided against German universities and conservatories and preferred the internationality. How much has that influenced your studies so far?

In a very positive way. It is definitely more challenging than studying in German in Germany. But I like that. I also find it easier to express myself in English, which is the working language here. There are many more ways of describing things and more terminology that is also understood internationally. I find it very helpful to be able to communicate across borders.
The percentage of Dutch students is much lower than the international students. For me it's even better, because I … I say: I study with one foot in the Netherlands, but one toe sticks out into the German scene.
For you as a vocalist, it's probably even more interesting, because you're probably not confronted with German intonation and articulation in English, which is the predominant vocal language, but with international ones.
That is actually very interesting. In technique and interpretation I have two Dutch lecturers, both of them have quite a strong accent. Here in Amsterdam, in the Jazz Vocal Department, I have a course at the same time called "English/American Pronunciation" with a US-American. So, funnily enough, I have this Dutch input, as well as this work on phonetics and articulation
Does that also change your relationship to English as the language of jazz standards?

Yes, definitely.
You also sent me a concert recording. Among other things, you interpret the Michael Jackson classic »I Can't Help It«. This one, as you know, is co-written by Stevie Wonder. Wonder is an ardent fan of jazz. How do pop (Michael Jackson) and jazz (parts of the melody line here, for example) relate to each other for you?

I have a hard time with genre terms. For me, the attraction lies in not being able to precisely demarcate the boundary between jazz and pop. That said, I've been interested in jazz vocals above all else for a few years now. For me, pop chords are usually not enough; I want to express myself more and in a more multifaceted way.
Who are your idols?

You already mentioned one: Stevie Wonder. I think it's very cool how he has one foot in pop and one foot in jazz. But I also find many traditional and modern jazz composers and musicians attractive in their work: Coltrane, Esperanza Spalding, Brad Mehldau, Betty Carter, Veronica Swift.
We were just talking about the fact that you chose Maastricht to be a bit more "secluded". I think you have a very good overview of the standards and different interpretations. Is that the result of that time you invested?

For me it's important to have and develop a jazz-historical overview. For me it's helpful to hear as many versions of a song as possible to really dive deep into the song. And also to let myself be influenced by different styles and stylistics. Then you can also playfully deal with the material.
What does that look like with your own compositions?

The piano is the basis in all songs. But I never sit down to it with a certain intention and try to compulsively make something new. Mostly the harmonies come first, then the lyrics and then the melodies.
Actually, you wanted to perform in Cologne with your quartet …
Exactly. I formed the quartet here in Maastricht: With a pianist, a drummer and a bass player. I started composing a lot during Corona and the three of them were optimal to realize my compositions and what I had in mind.
And now you perform with a quintet …
There were two changes. I'm performing at King George with a new pianist – and above all with a saxophonist. I feel that stylistically they fit very well with my compositions.
How does the approach change for you with the formations?
For me, the quartet is the smallest unit for my music. I also perform in duos, but I think the balance in the quartet is optimal: there is enough space for everyone and my voice. The ratio of rhythm and melody/harmony is also right. At the same time, I find it exciting now in the quintet that the saxophone opens up completely new possibilities. I like it when instrument and voice play in unison. It's also appealing to explore again the blending relationship between voice (for the text) and voice as instrument. The saxophone helps to make my voice sound different. It's no longer just "singer with band". It is then increasingly about other colors, about second voices, about more complex harmonics.
Is the concert at King Georg then also an opportunity to try things out?
Yes, in several ways. It's the first performance with the band outside of school. And you don't study to play at school, but in front of an audience. The performance is the purpose of my studies. I'm also interested in the changed reception behavior. Where you don't just play and listen to the songs in critical analysis and with content-related criticism, but just for pleasure.
In addition, we have never played together in this quintet version. So it is an attempt. I am curious mysel
Interview: Lars Fleischmann
On the occasion of the concert of the Tribute to Cole Porter Band with Klara Schwabe, Till Marschewski, Marcus Demel, Dominik Meyer and Sarah Mysegaes: The story of a not always happy life full of immortal songs.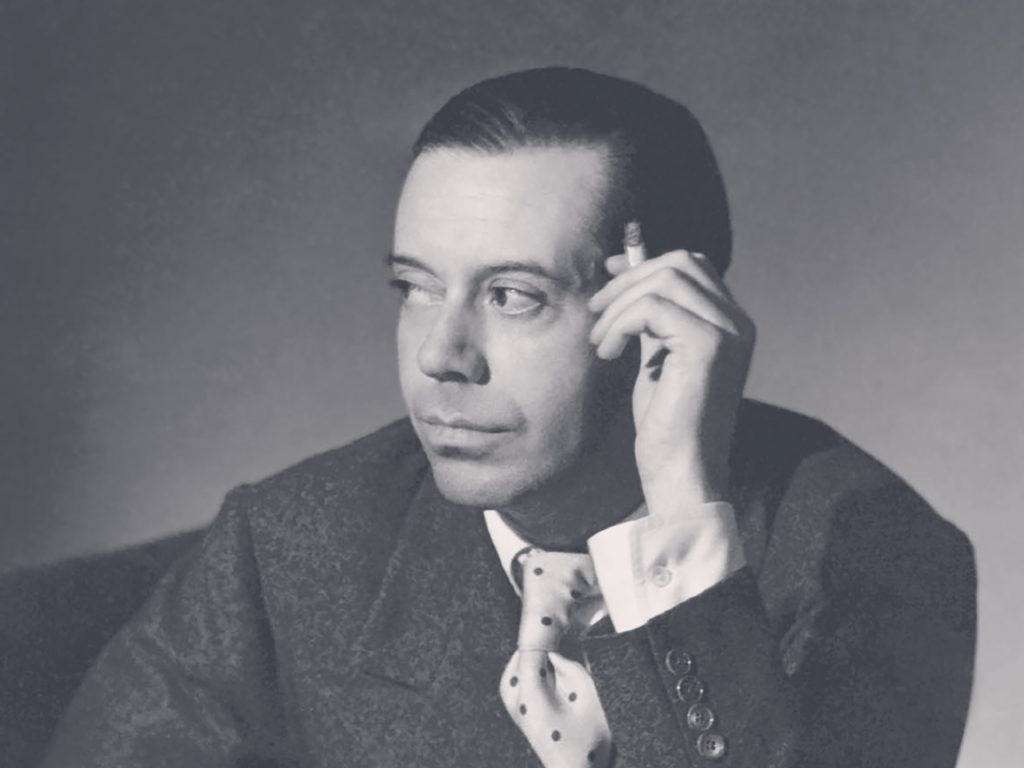 When Klara Schwabe, Till Marschewski, Marcus Demel, Dominik Meyer and Sarah Mysegaes pay tribute to American songwriter Cole Porter on Wednesday, September 28 , you can look forward to wonderful, upbeat pieces from the classic American Songbook. Porter takes a prominent role because his personal resume and professional career diverge widely.
Porter was born in 1891 in Peru, Indiana, USA, into wealthy circumstances. There he learned to play the violin at the age of six, and the piano from the age of eight. As early as 1900, just in time for the turn of the century and his ninth birthday, he worked on his first own pieces.
Europe as a new home
At 14, it's off to an academy in Massachusetts, at 18 to Yale University in New Haven, Connecticut, again four years later to Harvard. According to his family's will, he was to become a lawyer, but he himself preferred music, dropped out of law school and soon studied composition. However, his studies were abruptly interrupted by the First World War: a momentous decision took him to the French front. But unlike his peers, for whom wounding or even death awaited, for him it was Paris and its cultural life that changed him permanently. He remained in Europe after the end of the war, tossing and turning his evenings and nights, and met his future wife, Linda Thomas.
Crutches as constant companions
After a tidy inheritance, he was well provided for anyway. This gave him enough time to get one, two, three, four feet in the door, first in Europe and then again in the USA. From then on he wrote for groups, big bands, theater, musicals. The friendship with Irving Berlin was the door opener, if it ever took longer. But the name Porter had long had its own luster. Glory was not only to await in the performance arts; film, which had just acquired soundtracks, became another playing field.
For Hollywood, Porter composed, among other things, the immortal classic "Anything Goes."
A year after the success of "Anything Goes," Porter's life would change forever – not for the better. After a fulminant riding accident his legs are badly injured; the doctors want to amputate, Porter refuses the measure: he did not want to give up playing the piano. The conservative treatment method did not cost him his life, but his strength was never to return – despite several operations. Crutches and a wheelchair became constant companions.
A musical as a huge success
He still had plenty in his quiver: after the horrors of World War II, American society is intent on hedonism and drifting away. The Broadway musical "Kiss Me, Kate" is taking the country by storm. Music and lyrics by Cole Porter, of course.
Five years later, the next stroke of fate: his mother died in 1952; less than 20 months later, his wife Linda also died. The two women had been the great trusted figures of his life, although at the same time he made comparably little secret of his homosexuality. After that, Porter was a broken man.
Artistic footprints like craters
The situation around his legs changed abruptly, the amputation could no longer be prevented. After years of agony, he died in Santa Monica in 1964. His legacy, his musical one, nevertheless cannot be erased from America's history. His footprints deep craters full of songs, hits, popular songs. "Night and Day" and "Cheek to Cheek" are two of the most famous songs of the 20th century. Standard repertoire for all crooners and entertainers; for Juilliard School aspirants as well as Frank Sinatra and Dean Martin.
Text: Lars Fleischmann