Martin Sasse is the Artistic Director Jazz at King Georg. With him we use the end of the year to take stock and look back and take a look into the future – also on the occasion of the current award with the program prize APPLAUS by the Initiative Musik.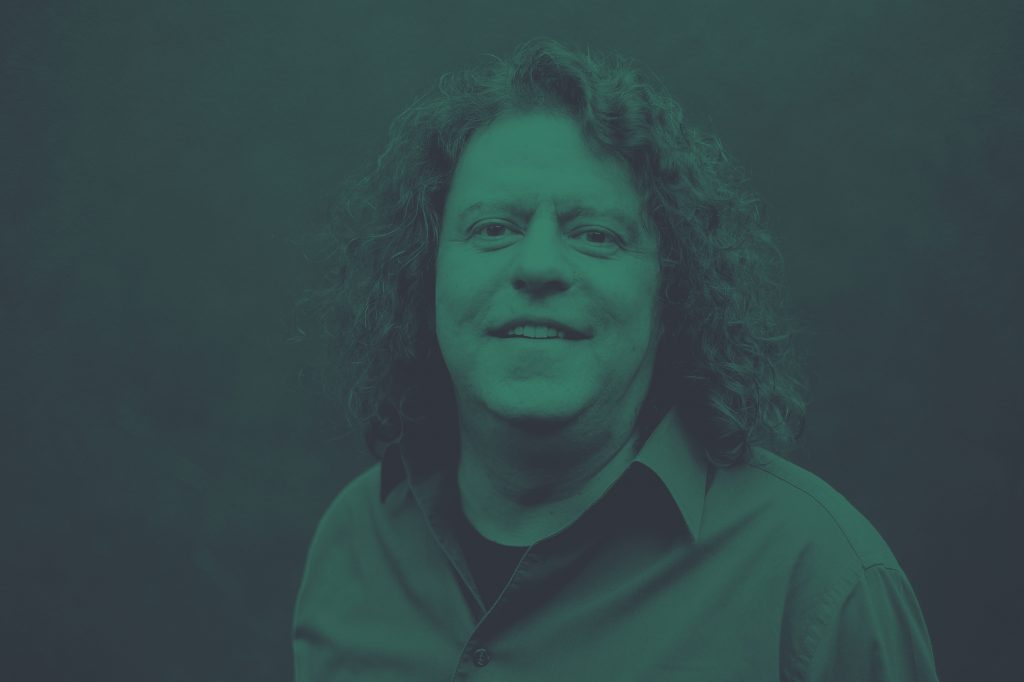 As the King Georg's Artistic Director of Jazz, what do you think about the 2022 APPLAUSE award for »a culturally outstanding live music program in 2021«?

I am very happy about it. It is an honor to receive such an award. But I also think we deserve it because we have persevered in difficult times and have managed to engage exceptional artists and put together a varied program. Thanks to the whole team for the excellent cooperation.

Were there any personal highlights for you in the King George program in 2021?

My personal highlights of 2021 were: David Hazeltine Trio, Joe Magnarelli Quintet, Chris Potter Trio and the Harry Allen Quartet.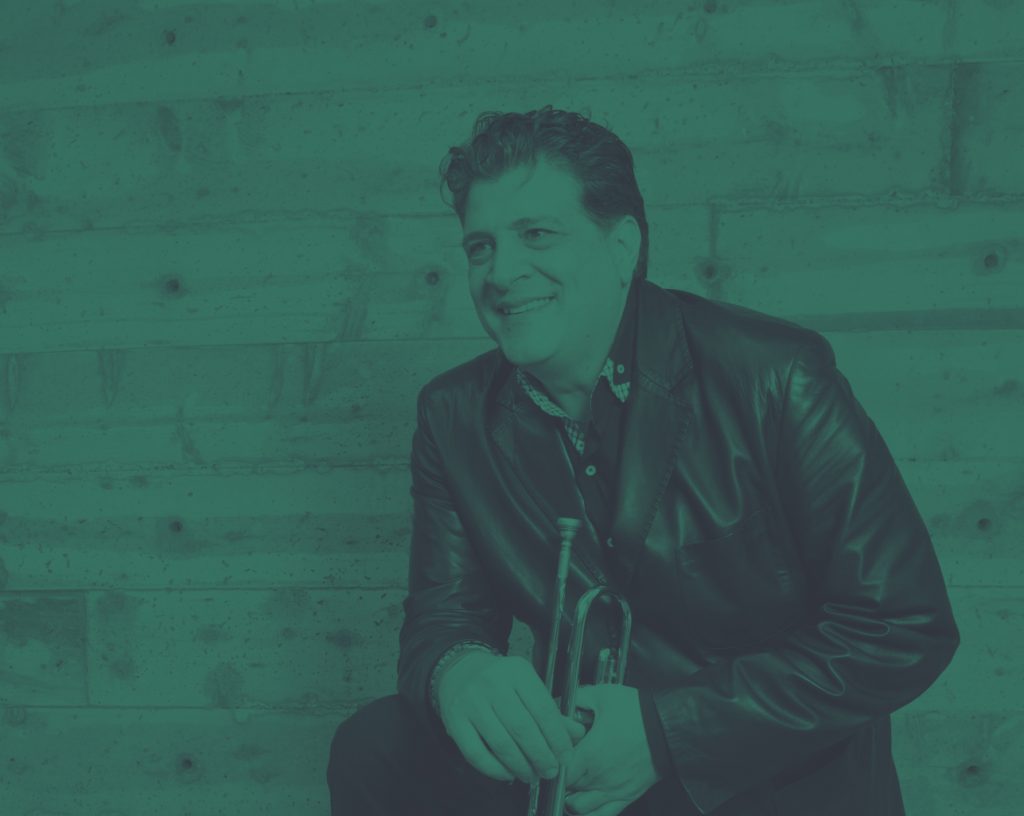 2021, just like 2020, was not an easy year for the acts and for booking due to Corona. How do you see this time in retrospect, during which the King Georg offered a continuous live program? What role do livestreams play in this regard and what do you think of them?
It was financially difficult, but incredibly important for the artists and listeners that we persevered and set an example. The livestreams were, after all, at times the only way to reach the audience. In our archive , they are and remain a great treasure and have enormous value. Thank you, Dr. Jochen Axer, for your perseverance!
How do you view the development of the King Georg Jazz Club as a whole? As a club for straight-ahead fans, has it caught on with the musicians – as a pianist and bandleader, you regularly play there yourself in various constellations – and with the Cologne audience?
I think more than arrived, because we play jazz for the audience, and people appreciate that. Since the Subway closed, we have been the jazz club that Cologne has been missing. Many international bands finally have a place to go in Cologne again, we are once again a location on the jazz map.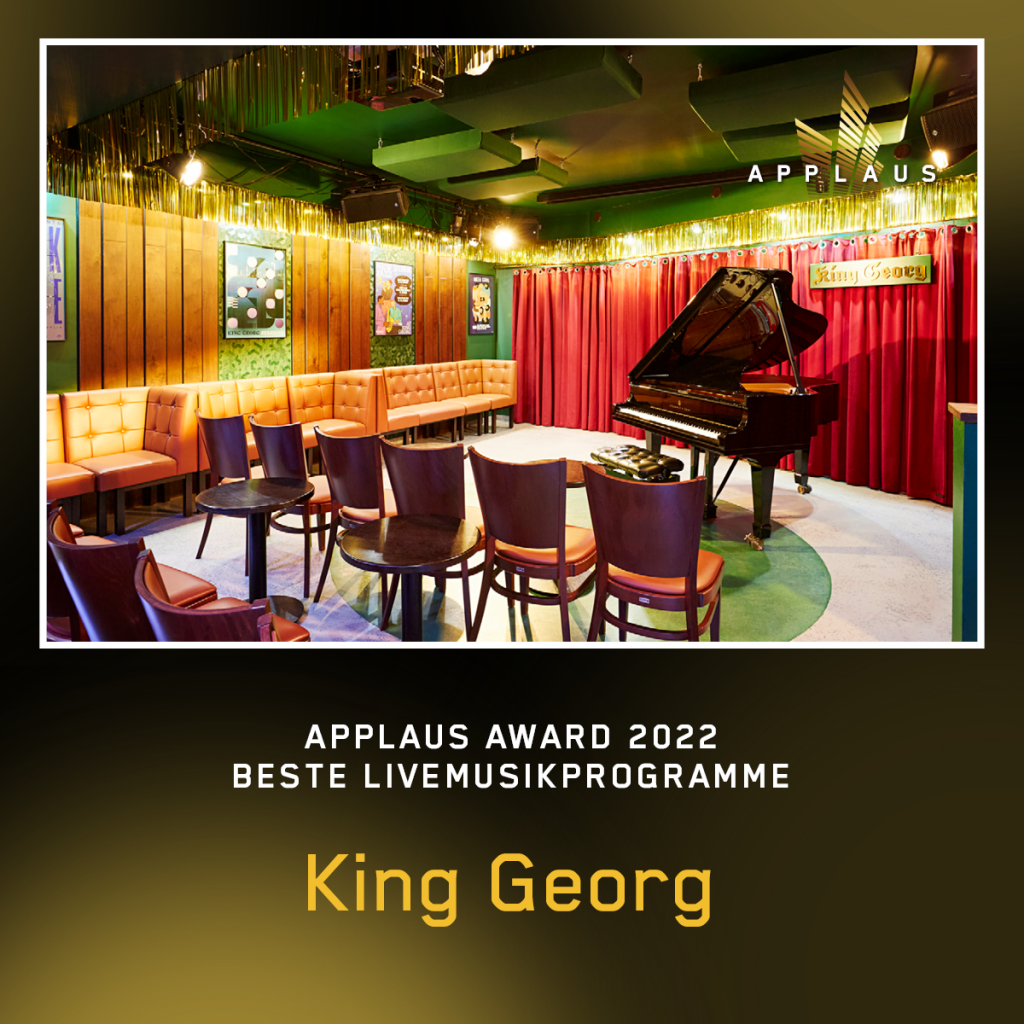 How important is the mixture of acts from the Cologne scene and beyond for you when booking? How international is the live music program?
A good mix is crucial. Promoting the local and young scene is important, but also the one or other international highlight that draws an audience.
How has the weekly Young Talents series established itself and what potential lies dormant in it?
We regularly provide students with a space where they feel comfortable. The series has become very established – beyond the region. Meanwhile, students from Bremen, Osnabrück, Berlin and Mainz come to perform with us.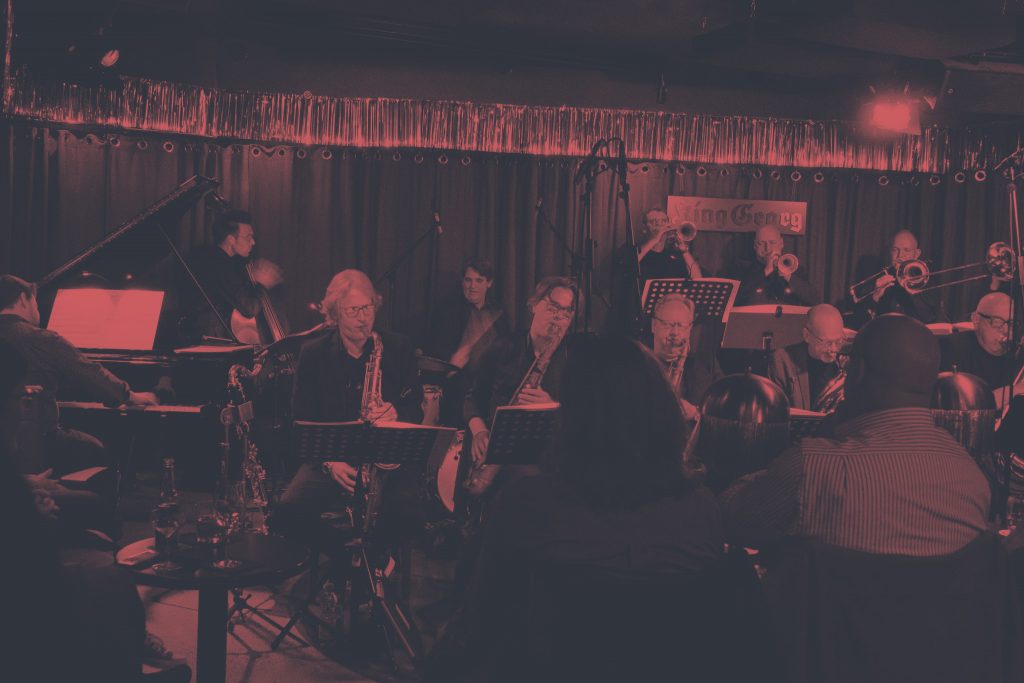 How important are the regular King Georg sessions and the King Georg 12-Big Band evenings?
With the Jam Session we offer especially the younger scene the possibility to play together with a professional rhythm section. The evenings are always a highlight of the month. The fact that we were able to get Jörg Achim Keller, one of the best arrangers in the world, with such a fantastic all-star band to perform with us once a month is a blessing that many envy.
What is your main focus when booking the King Georg jazz program?
Here's to a good mix of regional and international artists. Above all, however, is the quality of the music.
What are your plans and wishes for the program of the King Georg Jazz Club for the future and especially for the year 2023? What can the audience look forward to?
I would like to see 2022 continue as it is just ending – with quality, entertaining live music that delights the audience. Then we will certainly gain even more listeners.
Interview: Wolfgang Frömberg, Photo: Gerhard Richter
Two air filtration systems ensure a good climate. All jazz concerts still also digital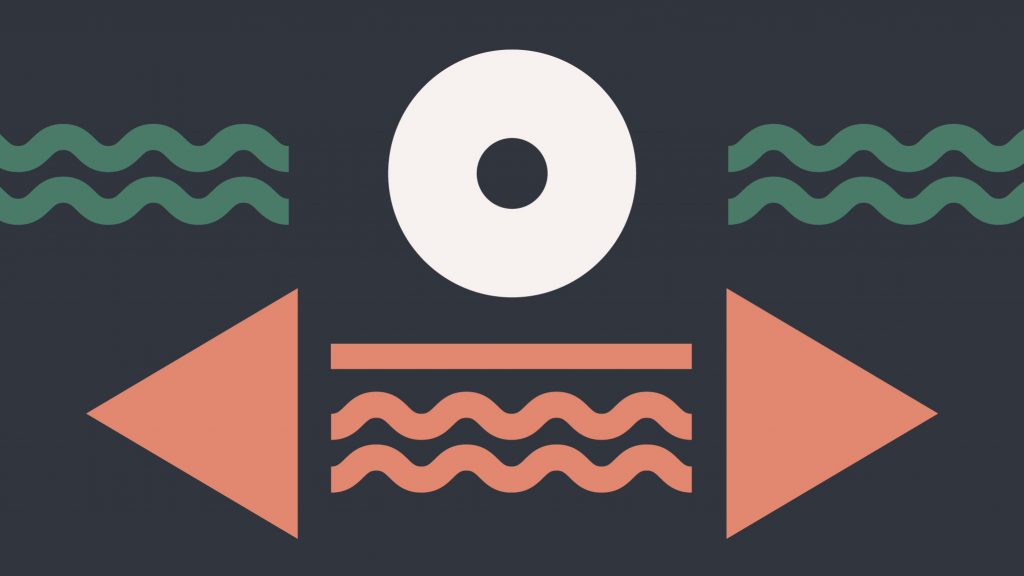 To prevent the transmission of diseases, viruses and bacteria, strict hygiene rules apply in King George, as they did before the last lockdown. These are constantly reviewed and adapted in accordance with the current Corona Protection Ordinances of the State of North Rhine-Westphalia.
The ventilation system in King George was newly installed in 2019. We work with two mobile powerful HEPA air filtration systems, which ensure almost 100% air cleaning of all particles in the entire room. With our monitoring device we check the particle load of the air – it is always much better than on the sidewalk. In addition, we work in the room with a fresh air system via two fans that draw in fresh air and remove stale air. The independent air conditioner, also equipped with HEPA filter, allows independently to regulate the room temperature to the desired level.
Wearing a mouth-nose protection is recommended regardless.
The King George Team
According to the motto "Onstage & Online – Every Day Live" we will also show the full concert program in the video stream in the future. We remain hyprid. Everyone can continue to be as close as possible – for a fee.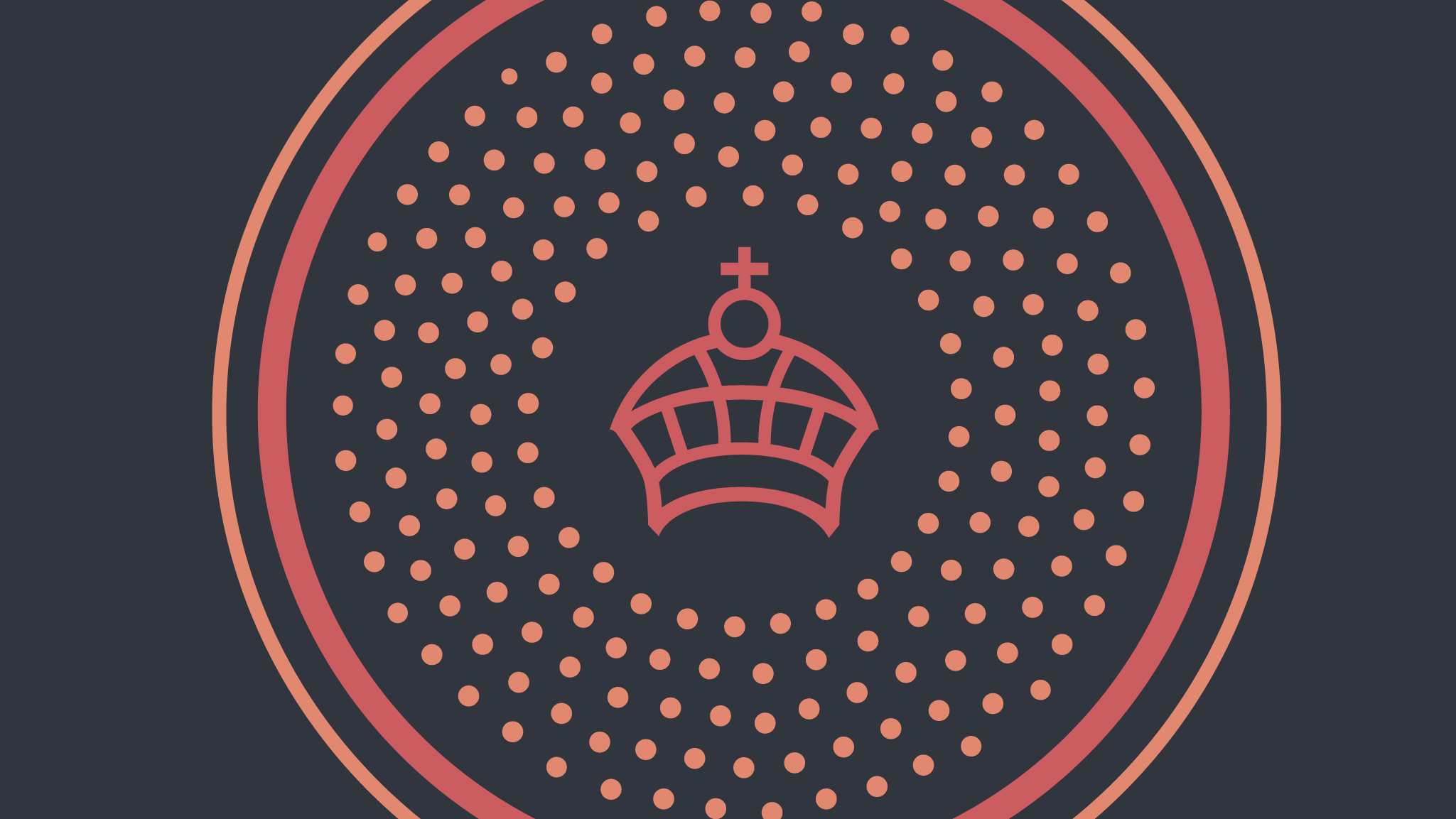 Jazz and culture should take place – despite Corona. Jazz is a live experience – and it has to stay that way. Live concerts are always exclusive and unique. Acoustically, visually, artistically – especially in the atmosphere of our jazz club King Georg – and this will also remain unchanged.
To date, the King George team has done everything technically possible to reduce health risks to the public on site. Any physical encounter that is legally permissible can be facilitated with a clear conscience thanks to our comprehensive voluntary hygiene concept. But an end to the impairments and restrictions caused by Corona remains unforeseeable.
So we have to be very serious about the future of our jazz club, the club bar and the people involved, whether artists or staff. And this future is – at least also – digital.
New content every day: Concerts, podcasts, articles
Our motto is: "Onstage & Online -Every Day Live". Every day we want to offer new content – whether live on stage or on the homepage. In the form of articles, podcasts and live streams. We are on the way to becoming a "Digital Club".
But that also means that our exclusive program costs money. Not only is technology expensive, we pay artists and staff to ensure their survival – government aid is a drop in the bucket.
Despite all donations so far, for which we thank you and you very much: In order to make the "Digital Club" sustainable, we need support through a contribution for our streams. From now on, the previously free video streams (the vast majority of which are broadcast live) can be obtained for a one-time fee or on a monthly or – best of all – annual subscription basis. Interested parties can quickly sign up for a subscription here. Select offer, create profile. Numbers. Our Live Abo Trio is clear and affordable.
The annual subscription: An investment in the future
All subscribers achieve several things with their commitment: they support jazz culture locally and beyond, they enable the survival of the artists and the "people around them" – and nourish the hope of a "real" live experience in the club in the future. You can directly enjoy jazz culture "as close as possible". And, through the digital program, make it possible for those who cannot be present in analog form due to age, illness, or their place of residence to enjoy the content.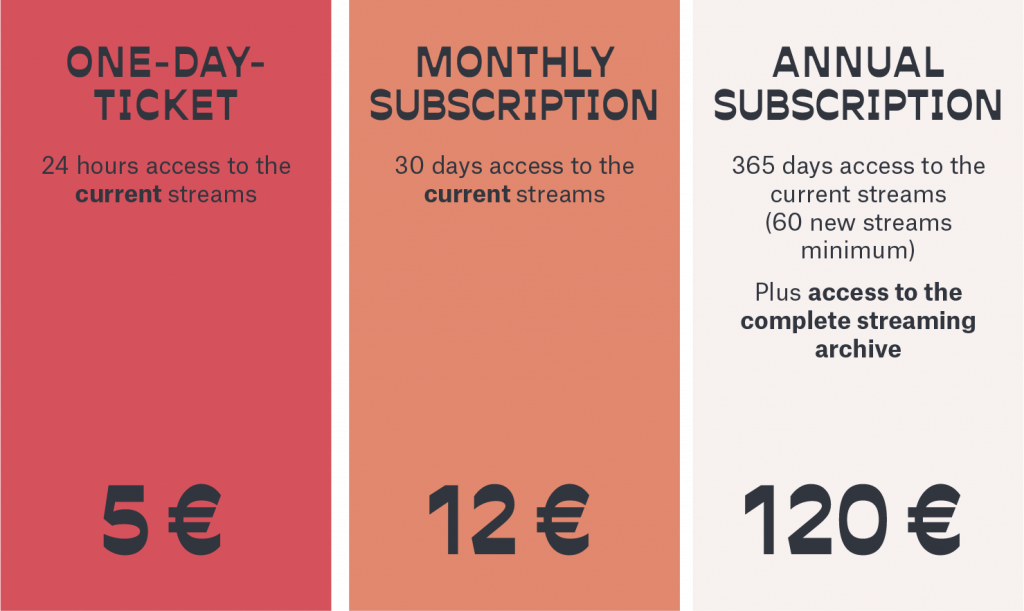 Often digital content is free: We will not be able to do that in the long run and in the future with our high-quality and exclusive video streams without you and you: Just as it is natural to pay admission for a live concert – it should be natural to pay for a streamed concert.
As the name Live Abo Trio suggests, there are three different variants. We especially recommend the annual subscription to all those interested: it costs 120 euros, the equivalent of five to six concerts in the club – and the return is more than 100 exclusive concerts per year and access to our archive, which also already includes more than 100 concerts since April 2020.
King Georg 2.0 + King Georg 2.1 = King Georg 2021 (= King Georg 2022)
The articles on the website and the podcasts from the King Georg Jazzcast and Klubcast series are still freely available. All music lovers can also support the continuation of this program by taking out a subscription. The offerings of our website have been developing rapidly for a good year. King George 2.0 quickly became King George 2.1. As a result, and with your support, we were well equipped for the demands of 2021 – and are well equipped for 2022.
We love jazz, and we want to give it to all of us live and experience it. There is no more intense musical experience than a jazz concert. Straight Ahead & more. We don't want to miss that. We want to offer the best entertainment on a permanent basis. With the many jazz concerts during the week, an ambitious club bar program on the weekends including DJ sets and readings – and with the possibility to enjoy all this analog and digital.
Welcome to the "Digital Club" King Georg, which will open its analog doors again as soon as possible.
We look forward to your visit
Your King George Team