Sounds instead of animals
The saxophonist Muriel Grossmann starts late – but right! We recap her musical career – and what her music has in common with that of John Coltrane.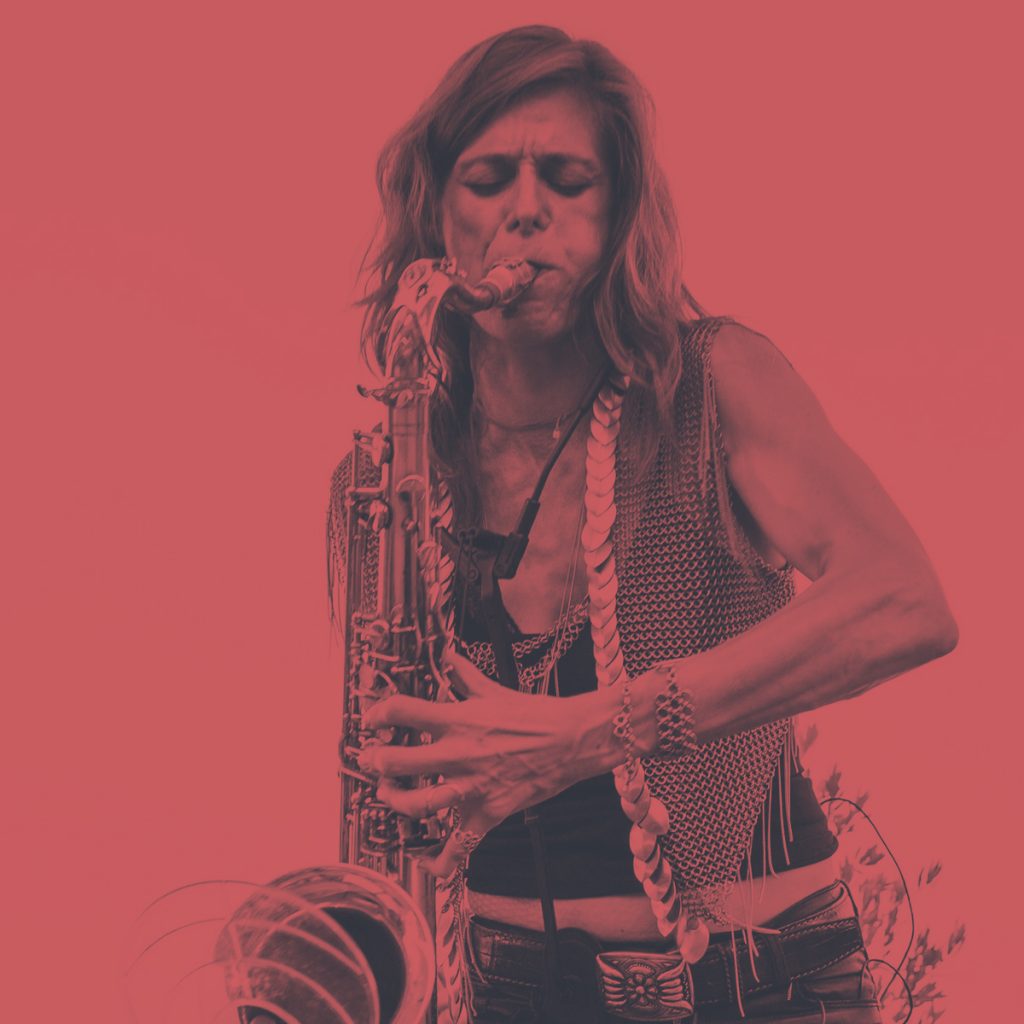 Twenty-five years ago, no one would have guessed that Muriel Grossmann (who was born in Paris in 1971 and will play two sets at King George on Nov. 11, 2022) is one of the most important jazz saxophonists today. Grossmann's career would actually have looked different if it were still up to young Muriel today. After moving to Vienna with her family in 1976, attending various schools and taking her Matura, she originally wanted to become a veterinarian.

Study overboard
Although she had already spent several years with the flute at that point, it didn't really spark. It was only when she switched to the saxophone at the age of 21 that her plans changed: she threw her bourgeois studies overboard and devoted herself to music. Years of commuting followed: between rhythm'n'blues, funk and jazz bands. No sooner than 2002, when she became based in Barcelona, a serious jazz career crystallized. On the advice of the pianist and composer Joachim Kühn, with whom she had already played frequently, she moved to the Balearic island of Ibiza in 2004. There she met Niko Weaver, guitarist for Prince for years, joined his band, at the same time still playing in hotel bars. In addition, she built up her own group. There was more than just one year in which Grossmann played 180 concerts. Nevertheless she found the time from 2007 even to build up her own label ("Dreamlandrecords"), to record and produce her own LPs. Finally, at the age of 36, the breakthrough followed.
Starting comparatively late, as Muriel Grossmann did, is not a disadvantage, especially in jazz; John Coltrane also developed leisurely into an ace and was only able to make bigger waves as part of the Miles Davis Quintet. But that is not the only parallel between the Methodist son from North Carolina and the Austrian teacher's daughter. Anyone who listens to Grossmann's compositions will immediately notice that they are clearly inspired by Coltrane's "Impulse!" phase. It is the period from 1961 on, when the African-American tenor saxophonist had already achieved world fame, but above all developed artistically and stylistically, as a result of which he found freer forms. Especially his investigations into the African origins of jazz and the spiritual qualities of the hotly and intimately, exhaustively loved music, find a delicate echo in Grossmann's music 60 years later.
Then one rediscovers Coltrane's lightness – an often underrated class – in the Austrian's sultry compositions and vigorous playing. At the same time, she shows inspiration from works by composer Alice Coltrane, John's second wife, and pianist McCoy Tyner. These influences can be explored, for example, on their Jazzman compilation "Elevation". Especially with "Peace For All", "Rising" or "Chant" you can hear inspiring sounds, which by the way do not exhaust themselves in epigonism, but weave in current references.
Again and again, rich soul, warm jazz virtuosity and the dignified view into the past penetrate to the surface, are given room to breathe there. A sound that melts into a dream, making the transitions smooth and fertile at the same time. Those who fear arbitrariness must be reassured: very charmingly, with a fine pen, Grossmann always leaves room where condensation would be excessive. The phrasings sound loose and concentrated at the same time.
The full range then shows itself again in a piece like "Quiet Earth" from the LP of the same name, which with its oil painting and impasto paint application almost seems like a construction manual for the title track.
There is the rich red and the warm orange that spread out when Grossmann and her fellow musicians (among them the long-term collaborators Gina Schwarz on bass and Radomir Milojkovic on guitar) definitely go into a clinch with "Olé" and "Africa/Brass"; the dry blue that presents itself here as a fusion influence or also the white ground that celebrates itself in Uros Stamenkovic's playing.
Text: Lars Fleischmann