Ella, elle l'a
The legend of Ella Fitzgerald – what lies behind one of the defining voices of the 20th century and her use of bee-bop-bop-bah-ooo-bee-doo-bee.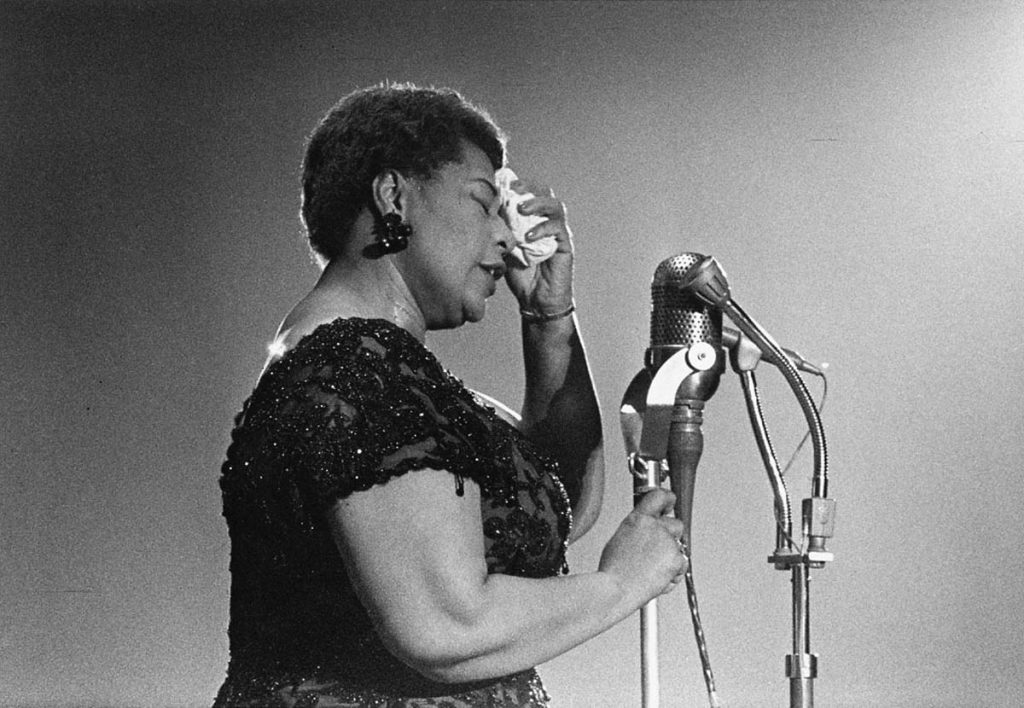 A few weeks ago, the American music, pop and rock magazine Rolling Stone published a list of the most important 200 singers of all time. This compilation was hotly debated; some decisions are understandable. The great voices of African-American music history are honoured; Aretha Franklin – certainly not without good reason – comes in at number one. Meanwhile, many in the online forums protested with the same justification about the 45th place: Ella Fitzgerald, born in 1918 in Newport News (Virginia), found herself there. An absurdity considering the fact that Fitzgerald's voice shaped the first half of the 20th century like no other.
Mary Lou Williams, herself one of the most important composers of jazz and the Great American Songbook, once recounted a night of dancing in Harlem's Savoy Ballroom. "A voice that sent a shiver up and down my spine." Further, it is said of her that she even literally ran to the stage to find out who the voice belonged to.
Of course it was Ella Fitzgerald, the band to Chick Webb's swing band. Chick Webb, the influential swing band leader at the time, discovered Fitzgerald in 1934 at a singing contest at the Apollo; also located in Harlem. The legendary club boasts to this day that it was the place where "Ella" was discovered. At least that's how the legend has it.
In fact, Webb did not meet Fitzgerald, who was often shy in the early days, until a year later; and was only to hire her permanently after a few months of rehearsals.
Nevertheless, she quickly convinced with her youthful voice, which even decades later sounded as if the vocal chords had fallen into a fountain of youth or had made a deal with the devil. As evidenced, for example, by this recording from 1968 – when she was already 50 years old – of the Gershwin ballad "Summertime":

This version sounds familiar to you, dear readers? It's a familiar phenomenon in the context of Fitzgerald's career. As the most important interpreter of countless compositions – fuelled, incidentally, by her involvement with the Verve label, for which she has recorded several songbooks – one could claim that Fitzgerald "owns" these songs. In any case, her interpretations continue to shape the songs to this day.
With Chick Webb, she was to lead the swing that made the States dance and sing in the pre-World War II era. After Webb's death in 1939, she took over his band for a few months, which unfortunately didn't work out: as a self-taught musician, she had never learned to read music and was comparatively unsuitable as an arranger. Before death, Webb, Fitzgerald and the band had a number one hit on the Billboard charts. "A Tisket A Tasket" was the big breakthrough.
Although her voice was inspiring and as much as she enchanted the audience with her youthful manner, one particular technique could be particularly significant in the big picture of music history: Fitzgerald raised scat vocalisation, which was in any case very important in the emancipation of the voice as an instrument in its own right, to a new level.
Carmen Lundy explains in Joachim-Ernst Berendt's "Das Jazz-Buch": "Many scat singers use the syllable dwee very often. Ella Fitzgerald, on the other hand, does not use dwee very often. She uses the bee-bop-bop-bah-ooo-bee-doo-bee more."
This richness of form and variety of sounds was extremely important. Scat, which here emulates, among other things, the saxophone, which is quite related in sound, goes from being a gap filler to a complex system of different sound components.
You can see that here, for example:
This made Fitzgerald the most important vocalist in be-bop, as she was better able than most of her colleagues to meet the new demands for harmony and vocal improvisation. The rest is history: In the course of the 50s, she became known to a wider audience – despite segregation in the southern states and performance bans. Marilyn Monroe also played a part in this, but above all her wonderful timbre, which opened eyes and mouths throughout her life.
And as already mentioned: Fitzgerald collected songs through her iconic interpretations like other people collect stamps. After an eventful career, she died in Los Angeles in 1996 – showered with honours and medals. Perhaps the editors of Rolling Stone should reconsider the placement in their Top 200.
Text: Lars Fleischmann, Foto: Foto Ben van Meerendonk / AHF, collectie IISG, Amsterdam