Mood Swifts
The composer and saxophonist plays jazz with a lot of funk and soul and develops a drive that brings together big-city, upbeat and evening moods.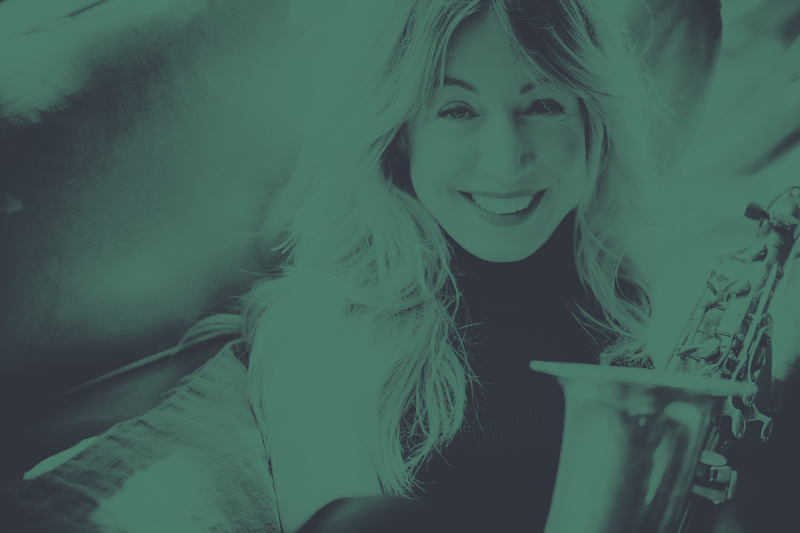 Even under optimal conditions, it takes a full nine hours to get from Wolfratshausen to Hamburg. For Stephanie Lottermoser, who was born in 1983 in a small Bavarian town south of Munich, it took a little longer before she was drawn to the Hanseatic city on the Elbe in 2018.
Before that, there were piano and singing lessons as a child, and later the switch to the saxophone and the big band line-up in school days. Soon the tranquil town of Wolfratshausen, known above all for having exploded in 1734 after being struck by lightning, was to become too small and Lottermoser went to study in Munich. From then on she studied cultural studies at the Ludwig-Maximilians-University in Munich, as well as music at the University of Music and Theatre. The additional education in the humanities also sets her apart from some of her colleagues, and Lottermoser is considered one of the most reflective musicians on the German jazz scene – as she regularly demonstrates in the podcast "Jazz Moves Schnack" together with jazz journalist Jan Paersch, among other things. Lottermoser's view is an analytical one, one that nevertheless also includes extra-musical references and thus presents exciting perspectives and points of view.
This can also be seen in her own music, which she now presents to a wider audience since 2008 and the formation of her band "Resonance". Lottermoser's jazz playing is clearly influenced by funk and soul, but remains clearly rooted in the field of (groove) jazz.
As precise and meticulous as their view of music is, as lively, entertaining and danceable are their own compositions at the same time. Just on their last longplayer "Hamburg" (ihr upcoming "In-Dependence" will be released on Nov. 21. presented at the King George) one could convince oneself of how skillfully and skilfully Lottermoser composes: In long movements and in elegant solos she sails here through different genre, crosses quite sometimes poppier ways and then gets back again and again via a thorough consolidation. On this breathtaking "harbor tour" we are invited as listeners, sail across the halfway tamed sea, let ourselves be carried along and moved by a few waves and come ashore dry-footed again in Altona.
Grandiose support comes from their crew: Maik Schott (keyboards), Robert Schulenburg (bass) and Tobias Held (drums), who together with Lottermoser keep the pieces on course. Thereby, daring turning maneuvers are definitely possible, but just not used as a standard effect. In her music, the Hamburg-born artist manages the feat that even Stevie Wonder succeeds in in his musical field: the straightness of her own sound makes it possible to incorporate decorative elements again and again without seeming kitschy or even volatile.
Quite the opposite: Stephanie Lottermoser always presents herself as a nimble saxophonist and composer who can bring together big-city, up-and-coming, and evening moods – and everything seems to be cast from a single mold.
This drive, which comes across as unpretentious, clear and without frills, therefore also moves body and mind; finger snapping and foot tapping are guaranteed when the quartet gets going. The finely balanced harmonies then accompany the head through the boulevards on the banks of the Elbe, the hustle and bustle of the Sunday fish market, the large Reeperbahn and the small boats on the Alster. A declaration of love as only a sharp, precise composer with an unblinking eye can make.
Text: Lars Fleischmann